AMETEK Land has released an innovative new pyrometer that provides high accuracy and a three-in-one capability specifically for the aluminium industry.  This eliminates the need for separate pyrometers to be used at the extruder press exit and quench positions, as well as at mill entry and exit points in hot rolling mills, as this functionality can be carried out within one single pyrometer.
The SPOT AL EQS (SPOT Aluminium Extrusion, Quench and Strip) pyrometer is an extremely flexible instrument with pre-configured algorithms for the vast majority of common aluminium alloys. Additionally, it can be customised and tuned for bespoke applications and specific aluminium grades.
Three in one capability
Richard Gagg, Global IR Product Manager for AMETEK Land, said: "SPOT AL EQS has been designed for even greater accuracy and convenience. We are confident that we have developed a temperature measurement solution that will optimise efficiency and achieve cost savings for aluminium producers, who now no longer need a variety of pyrometers at different points in the aluminium process."
Cristiano Baiano – Senior Automation Engineer at SAPA Profiles UK, noted: "Implementing AMETEK Land's SPOT AL EQS pyrometer at the press exit and after the quench have enabled us to continue to meet our customers' exacting standards.  It has given us the ability to take accurate measurements at very low temperatures, which is essential in ensuring product quality and performance. We now have all of the data available our operators need to enable them to make informed decisions."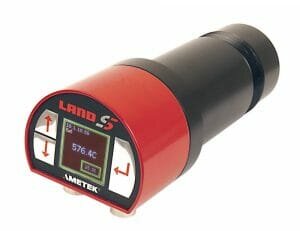 Ideal for low emissivity environments
The SPOT AL EQS was specifically designed to work in low emissivity environments where regular pyrometers might struggle to provide accurate and reliable readings. It has the ability to measure a wide temperature range from 200o to 700°C / 392o to 1292°F.  The pyrometer uses the latest, cutting-edge temperature detector design, combined with the most-advanced data processing algorithms to deliver a high level of accuracy and an industry-leading response time. In addition, SPOT AL EQS can be easily integrated into any plant control infrastructure.
Designed in close collaboration with industry-leading aluminium producers and plant control system engineers, the SPOT AL EQS pyrometer is helping lead the way in improving aluminium extrusion and strip plant throughput, quality and energy efficiency. This latest AMETEK Land temperature measurement instrument already has demonstrated its ability to provide immediate data for process improvement. For more details, visit www.landinst.com/products/spot-al-eqs.